Current Book Club Titles
September 2019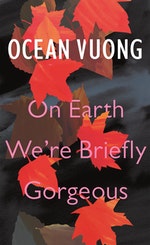 On Earth We're Briefly Gorgeous
Author: Ocean Vuong
Avenue Elsternwick Book Club members click here to rsvp for this month's meeting
MEETING TIMES:
Wednesday 25th September 2019, 7pm LIMITED PLACES STILL AVAILABLE
Thursday 26th September 2019, 7pm MEETING CANCELLED
Click here for reading notes or more information on this book
NOTES: On Earth We're Briefly Gorgeous is a letter from a son to a mother who cannot read. Written when the speaker, Little Dog, is in his late twenties, the letter unearths a family's history that began before he was born -- a history whose epicenter is rooted in Vietnam -- and serves as a doorway into parts of his life his mother has never known, all of it leading to an unforgettable revelation.
At once a witness to the fraught yet undeniable love between a single mother and her son, it is also a brutally honest exploration of race, class, and masculinity. Asking questions central to our American moment, immersed as we are in addiction, violence, and trauma, but undergirded by compassion and tenderness, On Earth We're Briefly Gorgeous is as much about the power of telling one's own story as it is about the obliterating silence of not being heard.
With stunning urgency and grace, Ocean Vuong writes of people caught between disparate worlds, and asks how we heal and rescue one another without forsaking who we are. The question of how to survive, and how to make of it a kind of joy, powers the most important debut novel of many years. It is a shattering portrait of a family, a first love, and the redemptive power of storytelling.
Named one of the most anticipated books of 2019 by Vulture, Entertainment Weekly, Buzzfeed, Los Angeles Times, Boston Globe, Oprah.com, Huffington Post, The A.V. Club, Nylon, The Week, The Rumpus, The Millions, The Guardian, Publishers Weekly, and more.
---
October 2019
Three Women
Author: Lisa Taddeo
Avenue Elsternwick Book Club members click here to rsvp for this month's meeting
MEETING TIMES:
Tuesday 22nd October 2019, 7pm BOOKINGS OPEN END SEPTEMBER
Wednesday 23rd October 2019, 7pm BOOKINGS OPEN END SEPTEMBER
Click here for reading notes or more information on this book
NOTES: Over the past eight years, journalist Lisa Taddeo has driven across the country six times to embed herself with ordinary women from different regions and backgrounds. The result, Three Women, is the deepest nonfiction portrait of desire ever written and one of the most anticipated books of the year.
We begin in suburban Indiana with Lina, a homemaker and mother of two whose marriage, after a decade, has lost its passion. She passes her days cooking and cleaning for a man who refuses to kiss her on the mouth, protesting that "the sensation offends" him. To Lina's horror, even her marriage counselor says her husband's position is valid. Starved for affection, Lina battles daily panic attacks. When she reconnects with an old flame through social media, she embarks on an affair that quickly becomes all-consuming.
In North Dakota we meet Maggie, a seventeen-year-old high school student who finds a confidant in her handsome, married English teacher. By Maggie's account, supportive nightly texts and phone calls evolve into a clandestine physical relationship, with plans to skip school on her eighteenth birthday and make love all day; instead, he breaks up with her on the morning he turns thirty. A few years later, Maggie has no degree, no career, and no dreams to live for. When she learns that this man has been named North Dakota's Teacher of the Year, she steps forward with her story—and is met with disbelief by former schoolmates and the jury that hears her case. The trial will turn their quiet community upside down.
Finally, in an exclusive enclave of the Northeast, we meet Sloane—a gorgeous, successful, and refined restaurant owner—who is happily married to a man who likes to watch her have sex with other men and women. He picks out partners for her alone or for a threesome, and she ensures that everyone's needs are satisfied. For years, Sloane has been asking herself where her husband's desire ends and hers begins. One day, they invite a new man into their bed—but he brings a secret with him that will finally force Sloane to confront the uneven power dynamics that fuel their lifestyle.
Based on years of immersive reporting, and told with astonishing frankness and immediacy, Three Women is a groundbreaking portrait of erotic longing in today's America, exposing the fragility, complexity, and inequality of female desire with unprecedented depth and emotional power. It is both a feat of journalism and a triumph of storytelling, brimming with nuance and empathy, that introduces us to three unforgettable women—and one remarkable writer—whose experiences remind us that we are not alone.
---
November 2019
The Incendiaries
Author: R. O. Kwon
Avenue Elsternwick Book Club members click here to rsvp for this month's meeting
MEETING TIMES:
Tuesday 26th November 2019, 7pm BOOKINGS OPEN END OCTOBER
Wednesday 27th November 2019, 7pm BOOKINGS OPEN END OCTOBER
Click here for reading notes or more information on this book
NOTES: A powerful, darkly glittering novel of violence, love, faith, and loss, as a young woman at an elite American university is drawn into a cult's acts of terrorism.
Phoebe Lin and Will Kendall meet in their first month at prestigious Edwards University. Phoebe is a glamorous girl who doesn't tell anyone she blames herself for her mother's recent death. Will is a misfit scholarship boy who transfers to Edwards from Bible college, waiting tables to get by. What he knows for sure is that he loves Phoebe.
Grieving and guilt-ridden, Phoebe is drawn into a secretive cult founded by a charismatic former student with an enigmatic past. When the group commits a violent act in the name of faith, Will finds himself struggling to confront a new version of the fanaticism he's worked so hard to escape. Haunting and intense, The Incendiaries is a fractured love story that explores what can befall those who lose what they love most.
"Religion, politics, and love collide in this slim but powerful novel reminiscent of Donna Tartt's The Secret History, with menace and mystery lurking in every corner." —People Magazine
"The most buzzed-about debut of the summer, as it should be…unusual and enticing … The Incendiaries arrives at precisely the right moment." —The Washington Post